Remember what you were doing on November 30, 2022? For many, it was the "iPhone moment of artificial intelligence": the company OpenAI released the first version of its chatbot ChatGPT, making generative AI available to a broad public – just as Apple ringed in the age of smartphones with the iPhone. But the success of ChatGPT is even more remarkable than that of the iPhone: Within five days, one million users signed up and just two months later there were 100 million users. This made ChatGPT the fastest-growing application of all time.
What Is Generative AI?
ChatGPT is just one example of a new category of AI applications: generative AI. Previous AI systems are exclusively analytical: they dissect huge amounts of data and find relevant information in the data. One example is recognizing people in video data.
In contrast to analytical, generative AI enables new content to be generated, such as videos featuring a specific person. To do this, machine learning processes analyze a great deal of training data – in the case of ChatGPT, according to the chatbot's own statement, it was 570 GB of text data – and create a so-called "foundation model" from this. The underlying model of ChatGPT is called "GPT" (for "Generative Pre-trained Transformer").
This model serves as a basis to perform many different tasks: Summarizing texts, answering questions, or even writing poetry. Other AI systems, however, specialize in image & video data: for example, DALL-E generates realistic photos. This enables new use cases, such as fake videos, which politicians and others increasingly fall victim to. But generative AI doesn't just cause problems – it also creates new opportunities, especially for companies.
What Is the Generative AI Canvas?
To explore these possibilities, Datentreiber has developed a canvas in collaboration with the Foundation Factory: the Generative AI Canvas. As a visual collaboration tool, the Generative AI canvas is part of the Data Strategy Design Kit and, therefore, freely available under a Creative Commons license. Interdisciplinary teams consisting of AI, IT & business experts can use the canvas to develop application ideas for generative AI in a collaborative workshop – for example, in a Data Thinking Workshop using the Data Strategy Design method or in an AI Use Case Ideation Workshop (more on this at the end of the article).
You can download the canvas as a PNG or PDF file and print it yourself or use it on a virtual whiteboard. Alternatively, you can order a pre-printed version on synthetic paper in DIN A0 format from Stattys. All versions look the same, as follows: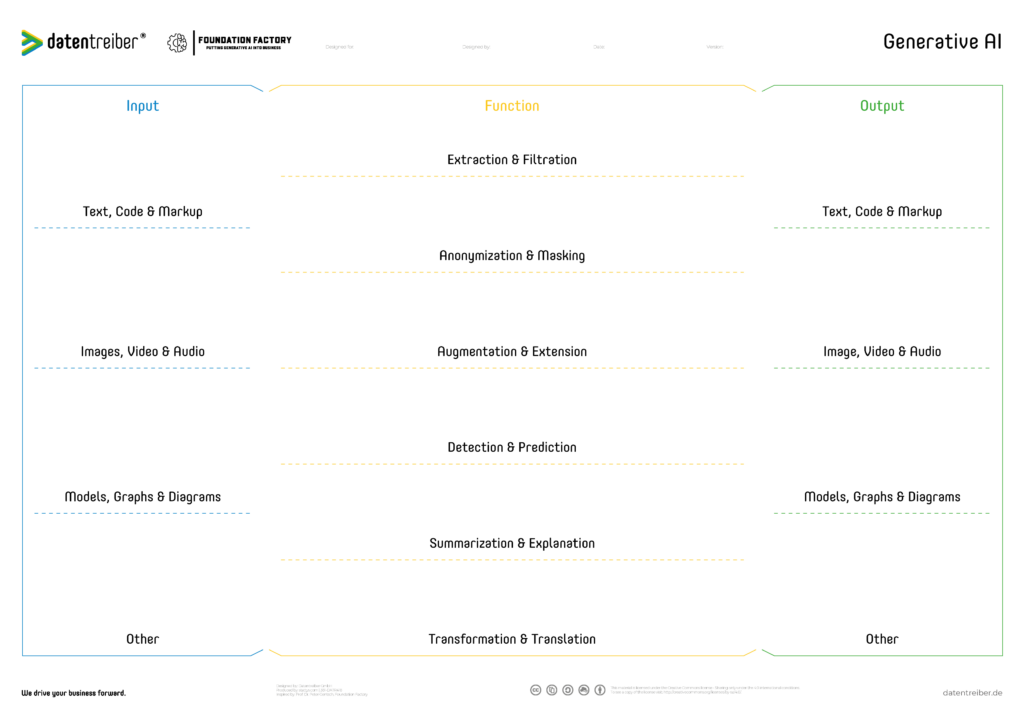 The Use of the Canvas Is Quickly Explained and Learned:
On the left side under Input, you list your available data sources, distinguishing them by data type. These data serve as input for the generative AI to generate an output.
On the right side under Output, you gather ideas for what a generative AI could generate in terms of content based on the input and what the company or its customers desire.
In the middle, under Function, you consider which functions an AI could or would have to perform on the input to generate the respective outputs. Possible AI operations can be roughly divided into categories such as recognition & prediction or conversion & translation and can be combined as desired.
The categories under Input, Function, and Output serve as a source of inspiration. Further information on them can be found in the text on the canvas (PNG with text, PDF).
What Can I Do With the Generative AI Canvas?
To understand the potential of Generative AI and the use of the Generative AI canvas, we created examples in Miro – a well-known virtual whiteboard software. You can view the Miro examples here without logging in or downloading the software.
Example 1 of 6
We'll start with a simple example: our fictitious company, the Sad HiPPO Company, has lots of software code programmed – but hardly documented. This is where a generative AI like ChatGPT can help by creating documentation for the code: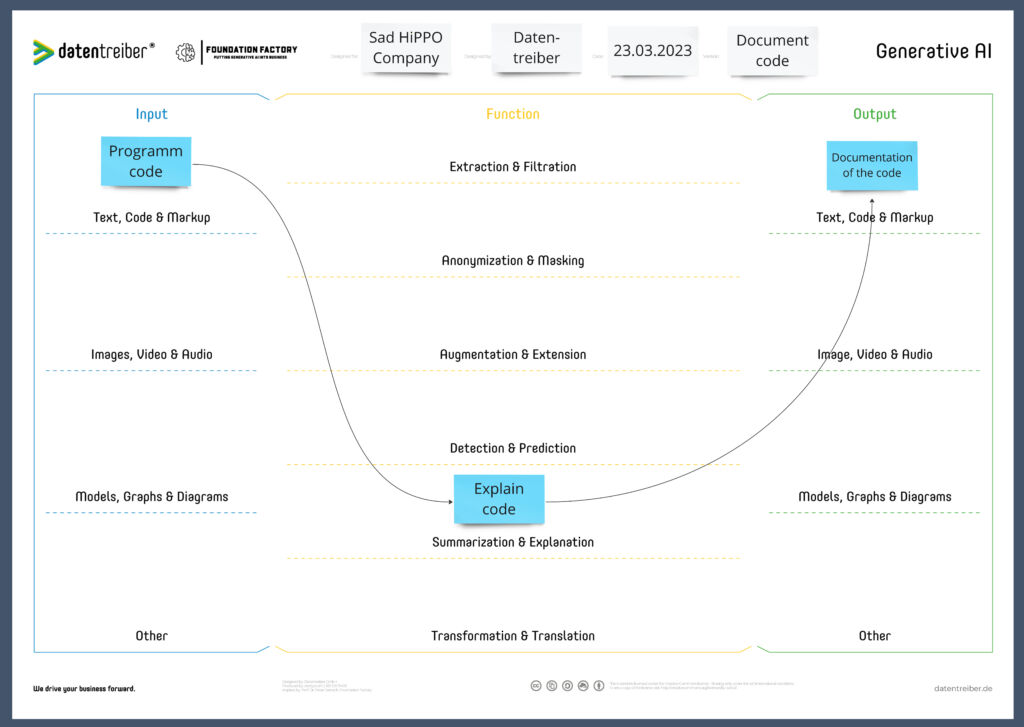 Example 2 of 6
An AI could also fulfill multiple functions, that is, operations on the input data executed in sequence. For example, the Sad HiPPO Company could use an AI solution to anonymize images: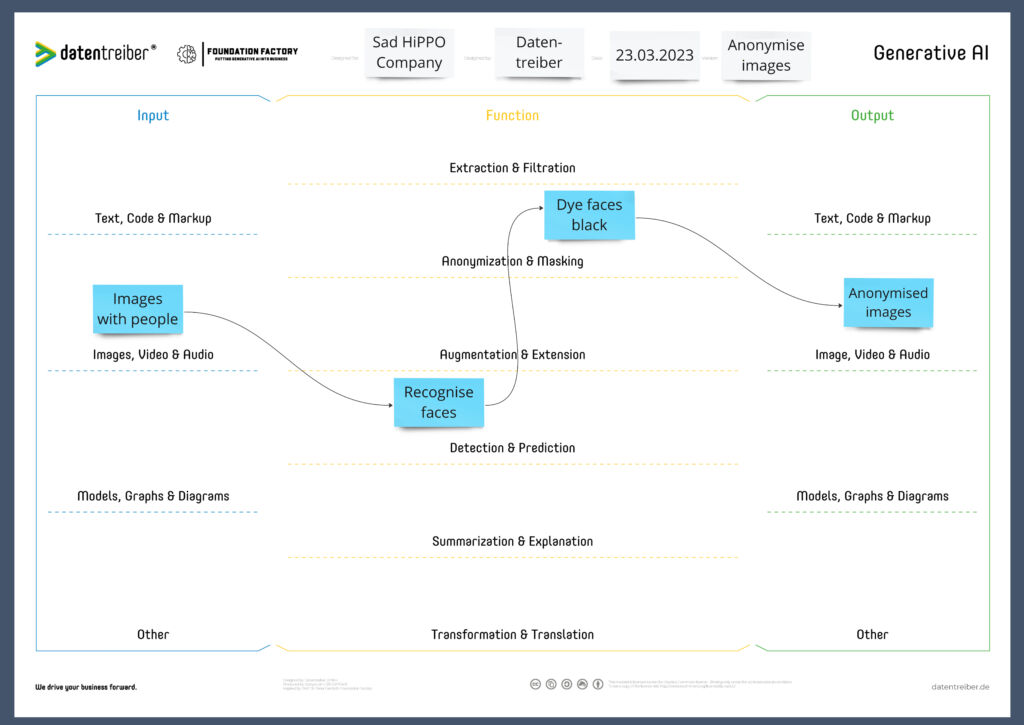 Example 3 of 6
An AI system can produce multiple outputs on the same inputs by performing different functions. Based on drawings of buildings, the Sad HiPPO Company could firstly generate photo-realistic images and secondly create a 3D model of the building. The result of a brainstorming session with Canvas would then look like this: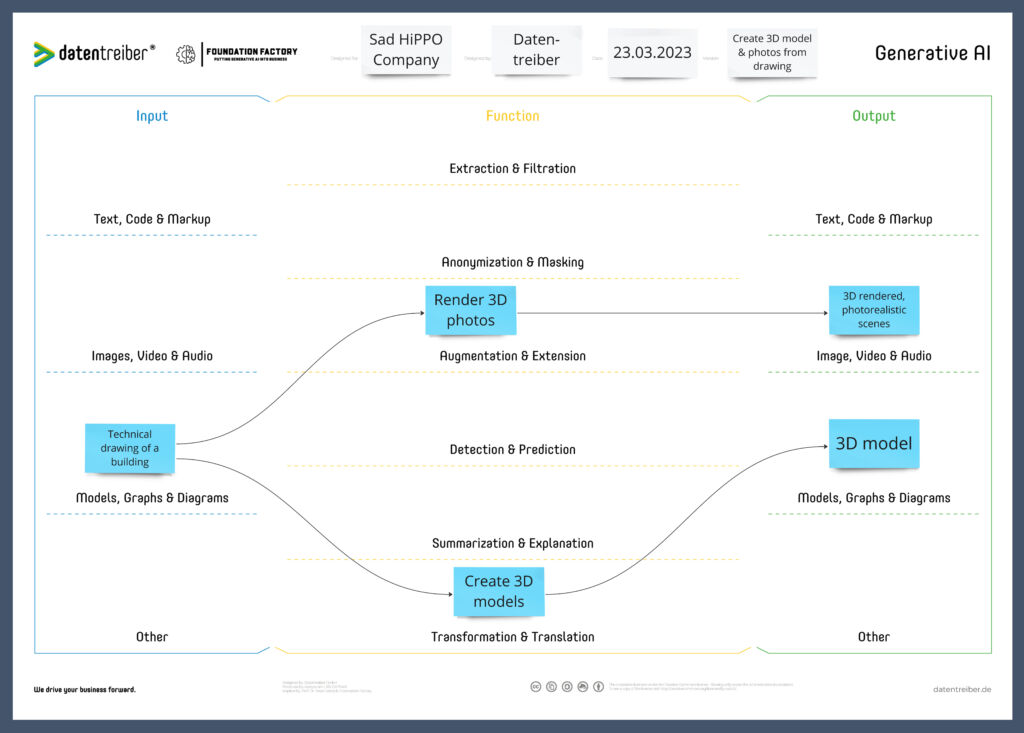 Example 4 of 6
Also, different input can be combined to generate "fake videos", for example: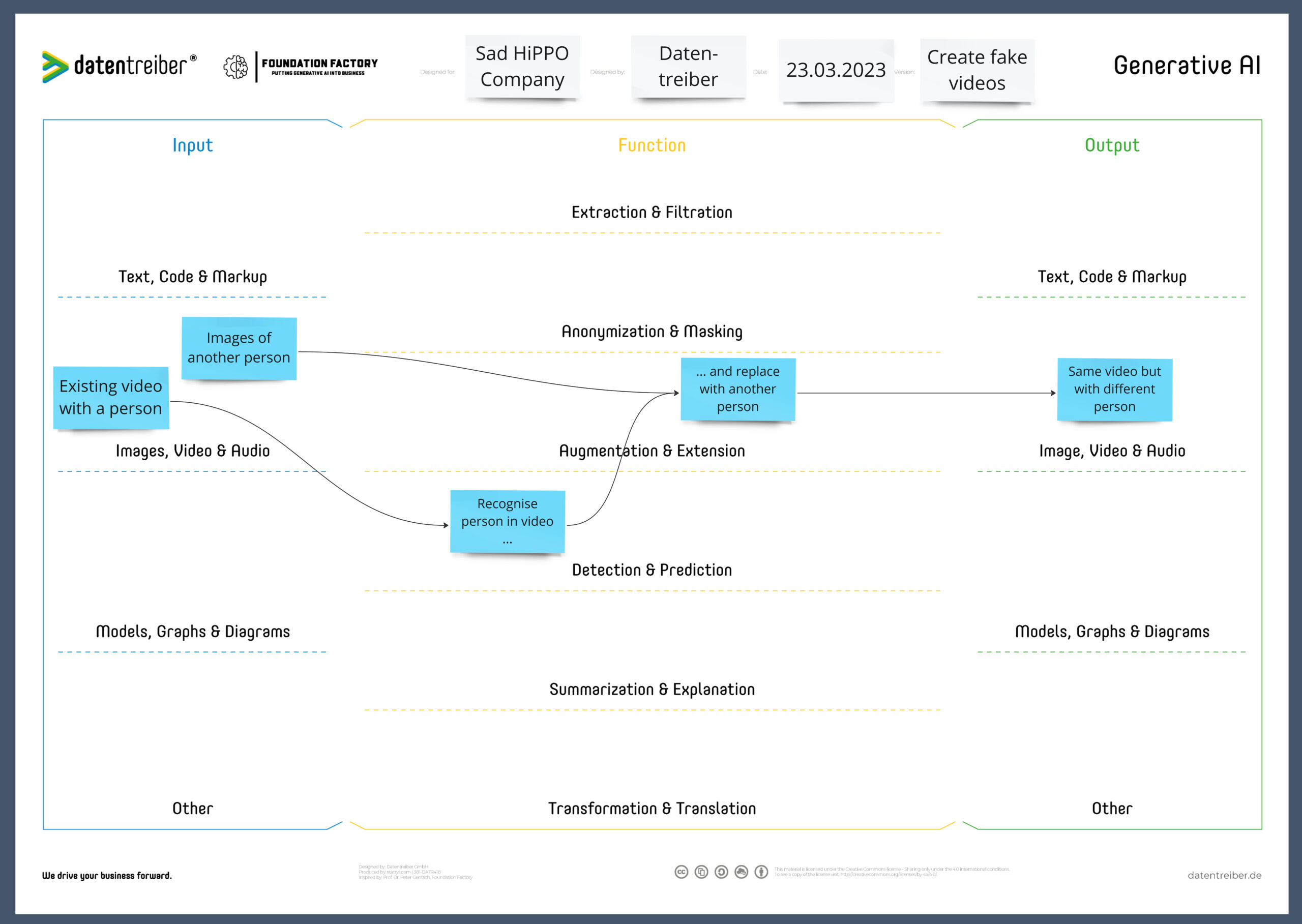 A realistic use case for such fakes is that Sad HiPPO Company wants to protect the identity of the people on the videos.
Example 5 of 6
There are no limits to your imagination when developing application ideas: the Generative AI Canvas makes it possible to map even complex functions, such as an AI for image editing via text input: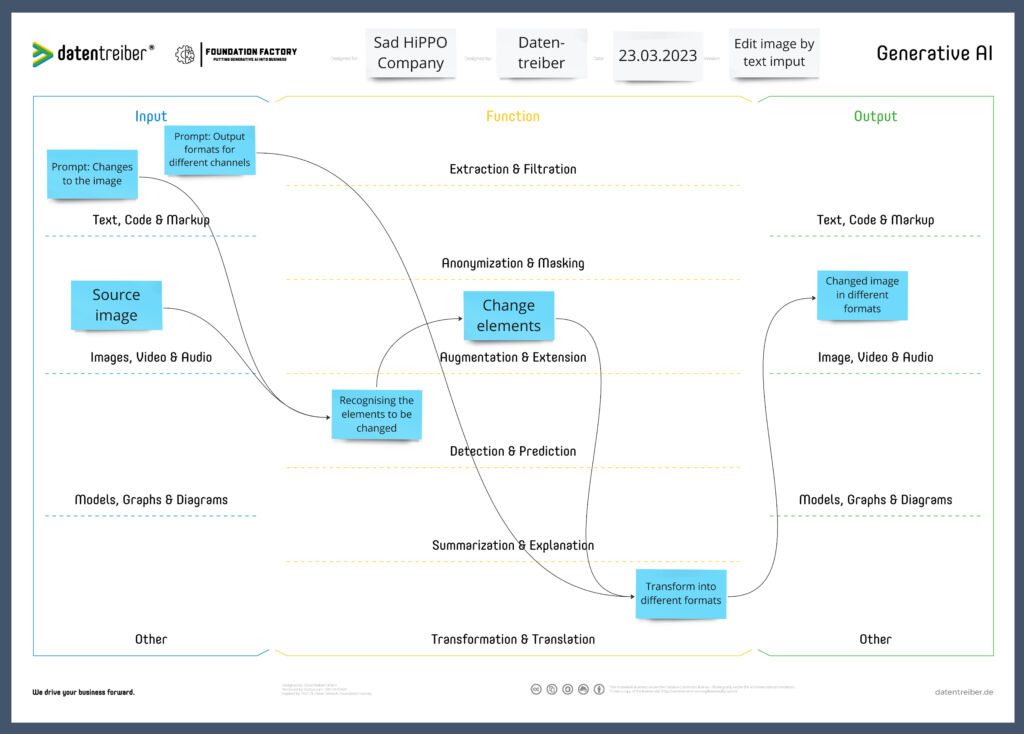 Example 6 of 6
And even so-called multimodal AI solutions are conceivable or designable. A multimodal AI is able to process and output different data modalities (data types). The following example is taken from a demonstration video for GPT-4 – the fourth and multimodal version of GPT – and shows how GPT generates the appropriate code and images from a line drawing of a website: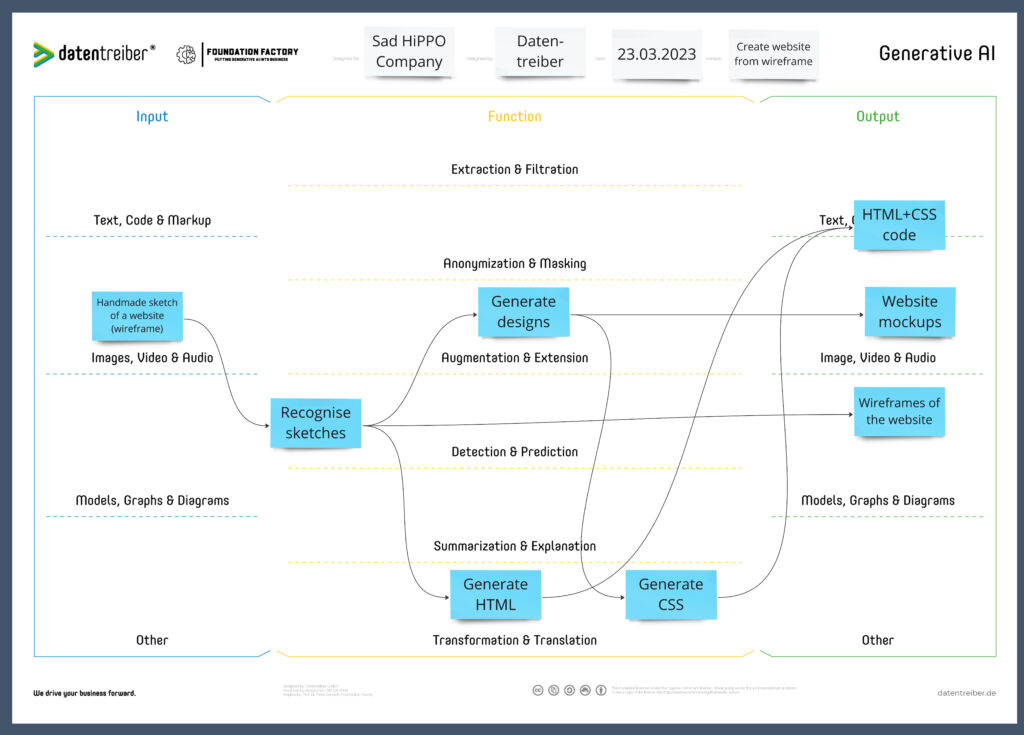 How Do I Get Started With the Generative AI Canvas?
The AI Foundation and Datentreiber have developed an interesting workshop format, especially for companies: during a four-hour Generative AI Use Case Ideation, we work with you and your team to identify the use cases relevant to your business and determine the next-best project to demonstrate the benefits of Generative AI for your company. The workshop can take place onsite at your premises or online in Miro, for example.
Our certified experts will guide your team safely and purposefully through the agenda:
The workshop will start with a keynote speech by the well-known AI expert Prof. Dr. Peter Gentsch on the opportunities & risks of generative AI.
Using interactive examples with ChatGPT, DALL-E & Co. you will then learn practically about the potentials of Generative AI.
We then jointly analyze your business model or your critical business processes or focus on the needs of your customers.
To then create application ideas for Generative AI – under the guidance of the Datentreiber experts.
Finally, we evaluate the use cases by cost-benefit ratio and select the next-best project.
During the implementation of the project, the AI Foundation and Datentreiber are of course also available to provide you with advice and support. We are at your disposal for a personal conversation.
If you don't want to miss any news at Datentreiber, sign up for our newsletter now. Receive all relevant blog articles, new seminar dates, special conference offers and much more conveniently by email.
By clicking 'Subscribe to our newsletter' you agree that we process your information in accordance with our privacy policy.