Summary
To start a new data-driven business or to transform your company into a data-driven enterprise you need a data strategy first. You learned this in our previous article on data strategy and data strategy design. A data strategy defines how to gain value from your corporate data, what data you need and how to extract information from that data. The method to create such a data strategy is called data strategy design and it's a combination of design thinking and data science. In this article you will learn the tools and how to use these tools to design successful data strategies on your own.
The long read will take about 10 Minutes.
What Is the Data Strategy Designkit?
The first step to a successful data-driven business is to design a data strategy and therefore you need the right visualization tools. Data is something very abstract as it is strategy. Consequently, a data strategy is something way too abstract to be communicated between people from different disciplines via voice or text alone. For a successful data strategy, you need an interdisciplinary team: you need an expert on the subject, to ask the right questions, e.g. a marketing manager; you need a data scientist or business analyst to find the answers in the data; and you need an IT specialist to extract the data from the relevant sources. Those people must talk to each other, discuss the potential solutions and most important they have to understand what each one is saying. However, they will have different mental models and they will use different vocabularies.
You might have heard the phrase "seeing is believing" – I might say: "seeing is conceiving". People will understand better what they can see. Visualization is a universal language. In our data strategy workshops at Datentreiber (a data strategy consulting company), we have encountered this many time: once the participants saw the visual sketch of a data strategy, they understood it. And when people understand something, they'll accept it and finally they will support it. To make a data strategy work, your people must understand, accept and support it, because they are responsible to realize the strategy by implementing the necessary solutions and integrating the data-driven thinking into the corporate culture. That's why we developed the data strategy designkit: a toolbox of visual templates to help interdisciplinary teams to design and discuss data strategies.
Of course, this designkit is available for free – in German and English.
What Is the Content of the Data Strategy Designkit?
The designkit consists of 15 tools (i.e. Canvas templates) invented by Datentreiber. For each canvas there is a tutorial as an introduction to the method and a detail page which explains how to apply the canvas template. Data strategy designers can use the canvas together or individually. The Data Strategy Designkit Canvas gives an overview of all canvases from the designkit and their interrelationships.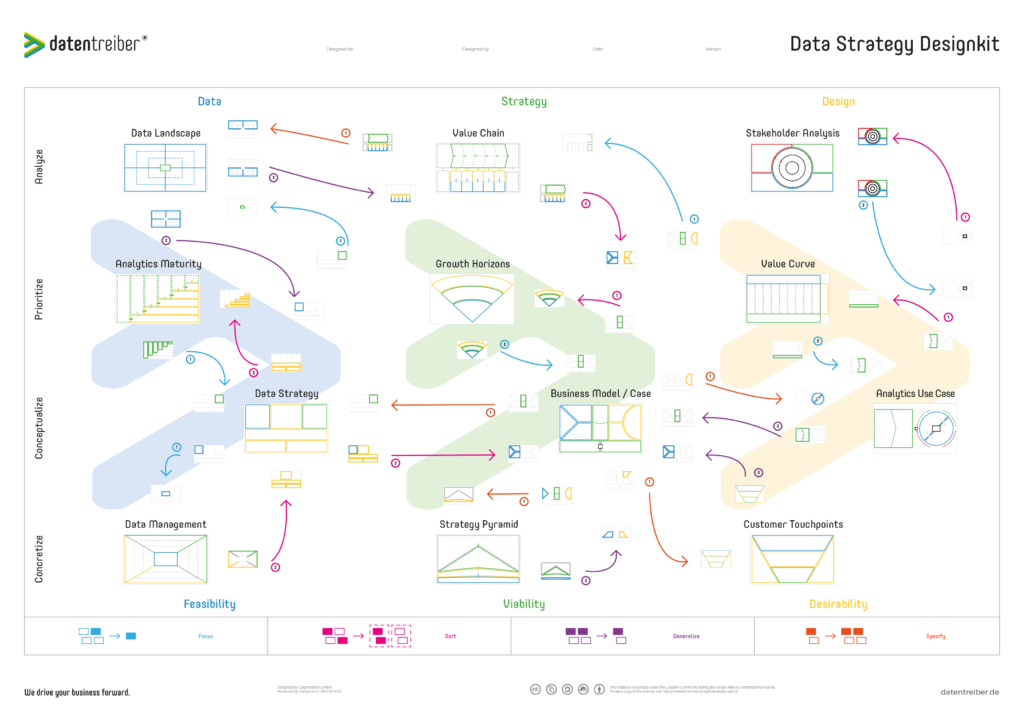 As said, the main point of this method is to design data products from the user's perspective. Most of the failures of analytics projects could be avoided by listening to the needs of the users. The Analytics Use Case Canvas helps you to better understand these needs and develop better analytics solutions. This creates user acceptance and added value. Finally, the Business Model / Case Canvas helps you to integrate the data product into your business model.
The structure of these both canvas has been geared towards the successful and famous Business Model Canvas and Value Proposition Canvas. Therefore we recommend reading the two books:
Value Proposition Design: How to Create Products and Services Customers Want
Business Model Generation: A Handbook for Visionaries, Game Changers, and Challengers.
The Data Strategy Designguide helps you to plan and visualise your workshops. The other canvases from Datentreiber can be divided into three areas:
As additional tool, there is also the Priority Matrix Canvas available, which helpes you to prioritise the cases.
How to Start With Data Strategy Design?
There is also a SlideShare presentation explaining the project and introducing the method of data strategy design for product development:
To start your own project begin with the Data Strategy template:
All our canvas are open source and free available on our website. You can also order the canvas in paper form from Stattys. If you work with our canvas, we would appreciate your feedback on the data strategy design tools. We value your opinion highly and are committed to continuously improving the tools.
Additionally, for those who are interested in learning the method of data strategy design first-hand and by means of practical exercises we also offer online trainings in Englisch.
To stay up to date follow us on social media (Twitter, Facebook, LinkedIn, YouTube).
Conclusion
You need the right tools for the right job. If your job is it to find out how to get value from data for your company, the data strategy designkit is the right toolkit for you – and your team. Designing a data strategy is not a one-(wo-)man-show: you need e.g. a marketing specialist, a data scientist and an IT expert to create a successful marketing analytics solution. Be aware: this will take time and many attempts until you find the right solution. Because remember: you have to fail early to succeed sooner meaning that data strategy design will help you to find out early what is NOT working before starting an expensive and long IT project and in the end realizing that it didn't create any value for your company. The good news is: the tools are open source and available free of charge. Also, you can get started quickly and easily with our tutorials. So, may the data be with you!