At a Glance
Title: Elements of Data Strategy: A Framework for Data and AI-Driven Transformation
Target Audience: CDOs, CTOs, Head of Data, Management Consultants, and all professionals responsible for value creation from data initiatives.
Topic: The book addresses the design of a data strategy for an organization and provides a framework for data- and AI-driven transformation.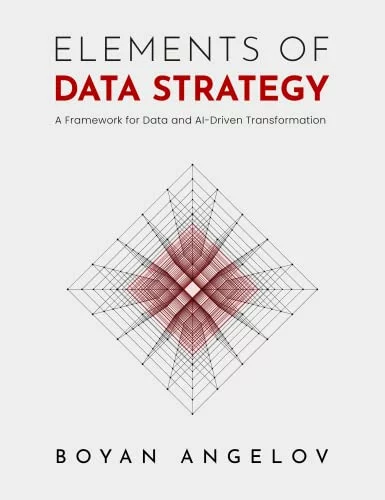 Author: Boyan Angelov
Language: English
Pages: 317 pages
Price: approx. 9 Euro (Kindle Edition) | 18 Euro (Paperback Edition)
Pros: Comprehensive framework, Practical applications, Expert insights, Clear presentation.
Cons: Somewhat technical, Potentially overwhelming for beginners.
Purchase: Amazon
In Detail
The book "Elements of Data Strategy: A Framework for Data and AI-Driven Transformation" by Boyan Angelov is not just another guide to data strategy but an essential reference for executives and data experts. It serves as a compass for CDOs, CTOs, data leaders, and management consultants looking to navigate the complex world of data- and AI-driven transformation.
Boyan Angelov, a renowned data strategist, brings over a decade of experience from diverse fields – from bioinformatics and clinical studies to HRTech and LegalTech. His broad spectrum of experiences in both academic and business environments, combined with his active participation in scientific projects and regular lectures at international conferences, establishes him as an authority in this domain.
The centerpiece of the book is the 3D model, consisting of the "Due Diligence", "Design", and "Delivery" phases.
Due Diligence: This phase is about understanding the business strategy and aligning with it. Current systems are audited, data maturity is evaluated, and a gap analysis is performed to determine the current state of the data strategy in comparison to the objectives.
Design: Here, the necessary data products are designed. This includes ideation, feasibility studies, and prioritization of data projects. The target data architecture and the required technology are also determined. In addition, data governance structures and an operational model for the data organization are developed in this phase.
Delivery: The Delivery phase is about implementing the data strategy. Here, agile methods like "Soft Agile" and "Lean Data" are introduced to make swift progress without wasting too many resources. Various methods for value creation are also introduced, such as DataOps and MLOps.
Angelov emphasizes that an effective data strategy requires not only technical know-how but also careful planning, thoughtful design, and efficient implementation. He delves into each of these phases in detail, outlining the necessary components, their interactions, and concrete steps for implementation. To further enrich the reader, Angelov integrates interviews with leading data strategists from global organizations, including heavyweights like Amazon, Publicis Sapient, and Deloitte. These firsthand insights provide not only theoretical but also practical perspectives on the challenges and best practices in data strategy.
Critics particularly praise the book for its comprehensive framework and the wealth of practical examples. However, some pointers suggest that the technical depth might be overwhelming for newcomers. Yet, it's precisely this depth that makes "Elements of Data Strategy" an indispensable tool for professionals aiming to develop a robust and future-proof data strategy.
In conclusion, "Elements of Data Strategy: A Framework for Data and AI-Driven Transformation" is a must-read for anyone looking to master today's data landscape and seize the opportunities of tomorrow.
This text was created with the help of ChatGPT.