Like the two previous articles on the Customer Touchpoints Canvas and the Analytics Maturity Canvas, this fourth article in our six-part series presents a canvas from the Datentreiber methodology for data strategy design.
In case you are only now starting to read the series, please refer to the first article. It introduces you to the topic of data strategy and the data strategy designkit developed by Martin Szugat. 
Back to the Data Strategy Canvas. Like the entire designkit, this canvas is also available as open source. While this article is not a detailed manual for working with the canvas, you will find a tutorial on our website which will show you the steps in detail.
In addition, the Data Strategy canvas is discussed in the advanced seminar Data Thinking. This Datentreiber seminar also has an interactive workshop character which is very important because data strategy design is rarely a linear process. Thus, each individual canvas must be seen in the overall context of the data strategy designkit.
Do You Actually Know Where Data Can Help You?
The Data Strategy canvas is divided into two sections, each with three areas. The upper section with the areas of Sourcing, Refinement and Utilization helps you answer the "what", "how" and "why" of your data strategy. The lower section (Tools, People, Partners) helps you identify the required resources to implement the data strategy.
When editing the canvas, you can either proceed from top right to top left, i.e. what goals (why?) are you pursuing by refining (how?) which data (what?). Alternatively, you can search for use cases for existing data.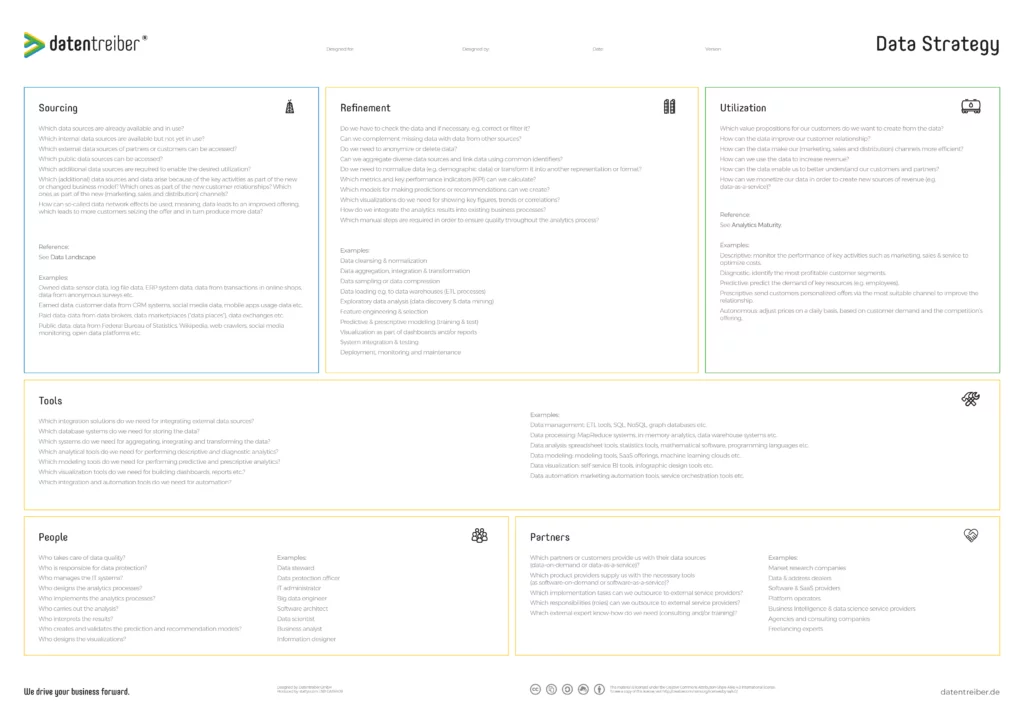 Data will bring you added value if the utilization of this data is related to your business objectives. This utilization can support you in different areas (marketing, sales, …) with various goals (developing new products, improving processes, …). The achievement of these goals in turn has a positive effect on your company.
So, ask yourself for example what information would help you to reduce your costs. From our first article in this series you already know different analytical methods. Perhaps, a first step might be to use descriptive analytics to track the achievement of certain KPIs? Or do you want to use predictive analytics to forecast sales to estimate the workload and thus save costs through better staff planning?

The identified use cases can be prioritized at a later time with respect to the necessary analytical maturity. If you have problems in finding use cases, the Business Model or Analytics Use Case Canvas can help you take a step back and make these core issues more tangible.
How Do You Get From Data to Information?
You get the information you need for your use cases by refining the raw material data.
"Once you know the goal, you need to define the path: how can you refine the #data into valuable information?"
To do so, you determine which steps are necessary to put the data into the right form, starting from exploitation to utilization. Think from the source to the possible application by the actual user of the data. Where for example must data be brought together? Which models need to be calculated and how will the result finally be integrated into the recipient's workflow?
The questions you should ask yourself here must originate from all relevant perspectives. After all, it is not only a matter of enhancing data by different methods (aggregation, transformation, enrichment, …). It is also about processing the data according to possible requirements. An example is the anonymization of data for data privacy.
Where Does Your Data Come From?
Ultimately, you need to determine the sources of your data. These can be existing data sources or data sources that you first have to explore. Depending on the application and the complexity of the development, the latter may or may not be worth it.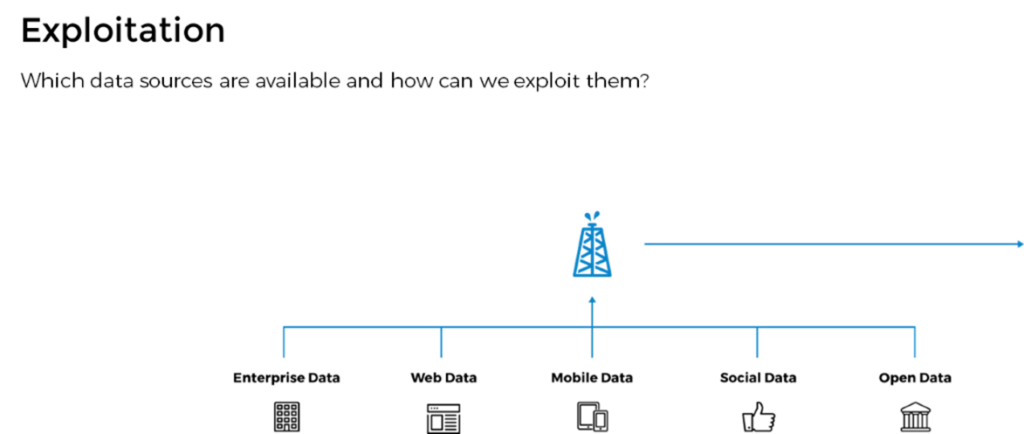 As already mentioned at the beginning, it is also possible to start from a data source perspective. If you already have a lot of data in your company, try to link it to corresponding use cases. Only then your data treasures will provide added value or turn out to be data garbage.
Data is never for free. If you have much more data than use cases, you should consider whether the costs of storing these unused data (storage, support from a technical and data protection point of view, …) are wisely used resources.
Think Also Already (Strategically) About the Implementation
The lower section of the data strategy canvas can be used to make transparent which resources you need to implement your data strategy: Which tools, people and partners do you need for implementation?
It is important to identify critical resources at an early stage. These may be employees with special skills or software that is needed but not yet in use in your company or has to be purchased.
"Do not reinvent the wheel and think strategically. Where can you build alliances? Which external know-how can you profit from? You don`t have to invent every algorithm or develop every technology yourself to be successful with #DataScience."
However, you should at least think about it, i.e. make strategic considerations as to where you may need external help or where you can reach your goals more quickly with external support. This can be knowledge, but also of course data that has to be purchased.
Conclusion and Outlook
This fourth article in our series of articles on data strategy design has shown you how to define use cases with the Data Strategy Canvas and how to plan their implementation in a structured way. Furthermore, you can develop suitable exploitation scenarios for already existing but unused data sources.
The Data Landscape canvas is the subject of the fifth article: Explore Your Data Landscape (5/6) . This helps you to clarify the technical requirements for your data strategy.
The sixth and final article: Hit the Sweet Spot With Your Data Strategy (6/6) in the series of articles deals with a complete overview of the Data Strategy Design.
The following other articles have been published in this series:
Note: Author of this article, which was originally published in German language and in full length on the Datentreiber blog, is Martin Raffeiner, Managing Director at datenbotschafter consulting.
——————————————————————————————————————————————————
Did we awake your interest in the development of data strategies? Then take a look at our Datengipfel Seminars Data Strategy & Culture for beginners and Data Design Thinking for advanced participants. Or contact us if you have any further questions.